Chevron Patterned (High incline ) conveyor belt
    Chevron patterned conveyor belts are an ideal inclined conveyor belt composed of rubber cleats, made with highly abrasion-resistant rubber types, that are integrally vulcanized with the top cover of the belts.
    Conventional smooth surface conveyor belts reach the maximum conveying angle of inclination is approximately 20°, but the high-performance and high-quality chevron cleated conveyor belts makes sharper angles of inclinations up to 40°, which can be use as lifting angle save much space.
    Patterns, composed by the cleats, can be designed as opened or closed, and each pattern can be arranged into three types: high, medium and low.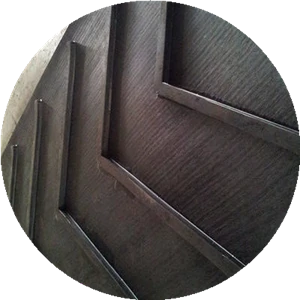 Feature Characteristics of Chevron patterned conveyor belt:
Comes with cleats that are integrally vulcanized molded with top cover rubber cleats that prevents load slippage or roll back of products while conveying.
Special design for the demands of high capacity conveying at steep angles less than 40°.
The pattern can be made in different cleat heights and available multi-option finish design depends on applications.
Belting idlers provide allowing smooth transition from conventional smooth belt to Chevron Conveyor Belts that no need modification.
Available in white finish that helps in maintaining better food standards.
High capacity and excellent space-saving performance, low maintenance, good flexibility and tears resistance;
Manufactured as per standards of DIN, BS, AS, IS, etc.
Applications of Chevron patterned conveyor belt :
Chevron Conveyor belt is widely used in conveying bulk material handling areas such as
General Duty belt requires of the steep incline angle
Mass materials like Gravels, Sand and Fine coal
Wood Chips, Timber Industry and Sawmills
Pellets, Unit loads like Bagged Materials, Sacks, etc.
Cement Industry, Concrete Plants
Agriculture, Grains and other foods industry
Steel plant, Crushed Metallic cores, aluminum smelters
Road Construction
Heavy Duty and Metal Scrap
Waste and Recycling Plants, Solid waste and recycling, Garbage Incineration Plants
Technical of Chevron patterned conveyor belt:
| | |
| --- | --- |
| Standard Width | 500mm (19.7″) – 1400mm (55.1′) |
| Type of Fabric | EP / NN / ST |
| Tension Strength | EP / NN: 160 to 2500 N/mm; |
| Standard Length | Customized |
| No. of Plies | EP / NN : 2 to 6 Plies |
| Pattern Height | 3.0mm (0.12″) to 32.0mm (1.26″); |
| Colour | Black |
| Edge | Cut Edge / Moulded Edge |
| Splicing Method | Hot / Cold / Mechanical |
| Standard Packing | Wrapping in HDPE sheets with Strapping. (Wooden Pallet / Metal Frame is available) |
| Belt Identification Number | A unique BIN (Belt Identification Number) at every 10 Meters (33′) |
Feel free to contact us for more details