Conveyor Belts

Fire Resistant
Fire Resistant conveyor belts
    Fire resistant rubber conveyor belts, through calendaring, forming and vulcanizing processes and etc., are the best for applications where raw material is prone to fire bursts. In order to achieve fire resistance purpose, the conveying belts were created with a special formulation of synthetic rubbers, designed to aid in the containment and extinguishment of fires.
Steel Cord Flame or Fire Resistant Conveyor Belt insert the steel cord as the carcass material, especially suitable for coal mines, power plants, and plant transportation.



Textile Fabric Core Flame or Fire Resistant Conveyor Belt uses nylon, polyester, or aramid as the carcass which is outside covered with flame-resistant rubber and is precisely finished through the processes of calendaring, molding, vulcanizing and etc.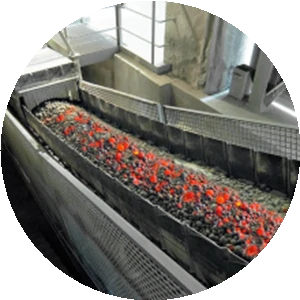 Feature Characteristics of Fire Resistant conveyor belt:
Superior tensile strength, High abrasion resistance, high durable, low maintenance, Resistant to high heat & wearing
Flame-resistant finish for the entire belt
Superior performance under extremely high temperatures
Testing standards according of the ISO of flame test etc.
Mining industry – underground Coal Mine
Thermal Power Plants
Aboveground Coal Handling Plants
Chemical and Fertilizer Plants
Steel, copper Works and Foundry industry
Tunnel Constructions
Technical of Fire Resistant conveyor belt:
Standard Width
EP / NN : 300mm (11.8″) – 3000mm (9.8′)
Type of Fabric
EP / NN / ST
Tension Strength

ST: 500 to 10000 N/mm; 

EP / NN: 160 to 3150 N/mm;
Standard Length
Customized
No. of Plies
EP / NN : 2 to 6 Plies
Rubber Cover Thickness
Up to 11.0mm (0.43″);
Colour
Black
Edge
Cut Edge / Moulded Edge
Splicing Method
Hot / Cold / Mechanical
Standard Packing
Wrapping in HDPE sheets with Strapping. (Wooden Pallet / Metal Frame is available)
Belt Identification Number

A unique BIN (Belt Identification Number) At Every 10 Meters(33′)