Conveyor Belts

Bucket Elevator
Conveyor Belts

Bucket Elevator
Bucket Elevator Conveyor Belts
    Bucket Elevator conveyor belts are designed for application effectively elevate vertically a variety of bulk materials, from light to heavy load, to suit different types of needs in particular working conditions.
    Fabric construction, with different kinds of durable carcass and covers, allocates the load evenly that reducing elongation, energy saving and reducing maintenance costs.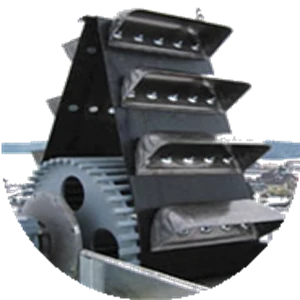 Feature Characteristics of Bucket Elevator conveyor belt:
Low elongation helps in reduced preparation time.
Features rigidity surface fixed to the bolt with tear resistance and perfect fastener strength;
Working on smaller pulley diameters
Flexible in white hygienic food-grade finish
Multiply-fabric reinforced transverse belt construction matches heights and heavy elevator buckets.
Fixed buckets meet with a variety of material characteristics;
Facilitates even load distribution improves the maintenance cost & increases productivity.
Sand, Gravel, brick and Stone quarry industry
Cement, Concrete plants
Mineral processing plants, Heating stations, Power stations;
Asphalt mixing plants
Wood, timber and sawmills industry
Farming and agriculture Food items
Warehouse, Silo feeding
Port, Docks, Ship transshipping loading, and unloading
Sugar refineries, Salt mines;
Waste recycling plants
Structure of Bucket Elevator conveyor belt :
Multi-textile carcass:
Polyester warp with great performance in heavy load conditions. Nylon weft with super resistance against tears and bolt fixed.
Steel-cord carcass:
Steel cords warp with elastic structure benefits with low elongation and excellent flexibility. Steel cords weft install both in the bottom cover and in the top cover assure a better high abrasion performance resistance against cut and tear.
Rubber covers for elevator belts is protection of material and moisture aggression and assuring buckets gasp strength, antistatic and ozone protected, safety guarantee and longer lifespan.
Technical of Bucket Elevator conveyor belts:
| | |
| --- | --- |
| Standard Width | Up to 2000mm (78.7″) |
| Type of Fabric | EP / NN / EE / ST |
| Standard Length | Customized |
| No. of Plies | 2 to 6 Plies |
| Rubber Cover Thickness | 3.0mm (0.118″) to 10mm (0.39″); |
| Colour | Black |
| Edge | Cut Edge / Moulded Edge |
| Splicing Method | Hot / Cold / Mechanical |
| Standard Packing | Wrapping in HDPE sheets with Strapping. (Wooden Pallet / Metal Frame is available) |
| Belt Identification Number | A unique BIN (Belt Identification Number) at every 10 Meters(33′) |