Conveyor Belts

Anti-Abrasion
Tumble shot blasting conveyor belts
    Tumble shot Blasting Conveyor Belts are engineered with jointless rubber belts with superior abrasion-resistance performance. The shot abrasive driven by shot turbines or pressure-air hit the surface of the workpiece with extremely high-speed projectile force, partial shot abrasive will hit the conveyor belt directly, so the belts are customized as per the sizes and width by the OEMs manufactured with creative special chemical components that extend the life of belts with excellent anti-abrasive, tear resistance, puncture resistance.
    Tumblast conveyor belts were created for the SHOT BLASTING MACHINE & SAND BLASTING MACHINE industry's OEMs.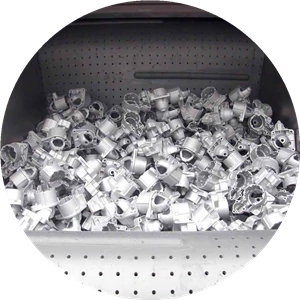 Feature Characteristics of Tumble shot Blasting conveyor belt:
    These belts are usually supplied in Jointless 'Endless' Lengths which helps Shot Blasting:
• Excellent Resistance to abrasion with special Jointless design longer lifespan.
• Having maximum Uniformity of thickness and strength all over the surface.
• Good Resistance to Heat, tear and puncture.
• Excellent Resistance to High impacts of shot-abrasive.
• Long-lasting durability, sustain longitudinal & transverse impulses during tumbling process.
• Fabricated conveying belting is tested under the standards of DIN and IS1819.
• Customized manufactures conveyor belt bases on customers' demand.
Applications of Tumble shot Blasting conveyor belt :
High-performance abrasive-resistance belt
Rubber belt roller shot blasting machine belt
Sand blasting machine belt
Perforated belt
Longitudinally jointed belt
Hot vulcanized endless belt
Technical of Tumble shot Blasting conveyor belt:
| | |
| --- | --- |
| Working Purpose | Abrasion and wear protection against extremely abrasive materials. |
| Type of Fabric | NR / BR / SBR  |
| Hardness | 64 Sh°A  |
| Standard Length | Customized  |
| No. of Plies | EP / NN : 2 to 6 Plies |
| Max. Abrasion | 40 mm3  |
| Colour | Black  |
| Edge | Cut Edge |
| Splicing Method | Endless (Jointless) |
| Standard Packing | Wrapping in HDPE sheets with Strapping. (Wooden Pallet / Metal Frame is available) |
| Belt Identification Number | A unique BIN (Belt Identification Number) At Every 10 Meters(33′) |