Corrugated Sidewall (Steep incline ) conveyor belts
    The corrugated sidewall conveyor belts are designed to prevent the transport materials from scattering because the substance is retained between the cleats and the sidewall due to space restrictions or requirements; And the sidewall conveyor belt is the most reliable solution for vertical transport of inclination, steep angle with large dip angle (0~90°).
    The sidewall conveyor belts are jointed and made of hot vulcanized cleats on the base belt, compare with cold jointed belts that with greatly extend the lifespan.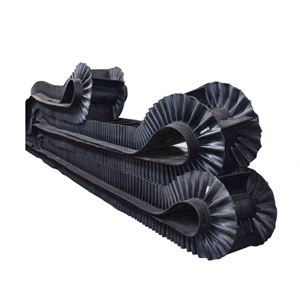 Feature Characteristics of Sidewall conveyor belts:
Sidewall belt rubber compounds tested and guaranteed to ensure maximum flexibility, also with superior abrasion resistance, anti-tear resistance and high tensile strength;
Sidewall belts designed with excellent vertical stability (30~90 degrees);
Sidewall bests use excellent hot vulcanized bond strength to provide for optimum load retention, from both sides to secure material leakage;
Sidewall bests with feature smooth transition at any angle from horizontal to inclined (or vertical) lift, or vertical to horizontal orientation flexibility;
Steep-incline conveyor belt suitable for conveying small-size powdery, granular, small block, dedicated and fragile material, pasty and liquid materials that prevent product degradation and spillage during transfer points;
Sidewall conveyor with compact structure, flexible in horizontal/vertical arrangement and at angles up to 90 degrees thus ensuring required ground space is at a minimum;
Applications of Sidewall Conveyor Belts:
Granular, small size stone, sand, block etc.
Fertilizers and Chemical Industry
Recycling Industry
Potash and Salt mining
Agriculture and food industry
Construction Industry which needs steep-angle lifting
Coal and Wood Chips Fired Power Stations
Underground Mining (coal and ore)
Ship Loading and Unloading, Ship to Ship transshipping
Sand preparation in foundry plants
Structure of Corrugated Sidewall conveyor belt :
• Base belting made of cross-stabilizing polyester (EP) ply combined with tensioning polyester (EP) ply to be perfect for medium duty;
• Base belting made with cross-stabilizing nylon (NN) ply and separated nylon (NN) tensioning plies, that are suitable for applications from medium to heavy duty;
• Base belting produced by textile nylon (NN) tensioning plies with Steel cord (ST) cross-stabilizing, that can be used in high anti-abrasion with the application of the steep height lift with extra width belts;
• Base belting that is manufactured by Steel-cord (ST) tensioning with Steel-cord (ST) cross-stabilizing guarantees the belts with superior tensile strengths, ideal applications for high vertical lift (90°).
The cleats can prevent the material from slipping and falling from the sidewall belt, and the ribs are connected to the base belt by a secondary hot-vulcanization method, which has a high connection strength feature.
Technical of Corrugated Sidewall conveyor belts:
| | |
| --- | --- |
| Sidewall Width | 44mm (1.73″) to 88mm (3.46″) |
| Type of Fabric | EP / NN / EE / ST |
| Tension Strength | 200 to 1000 N/mm |
| Standard Length | Customized |
| No. of Plies | 2 to 7 Plies |
| Rubber Cover Thickness | 2.0mm (0.079″) to 15mm (0.59″); |
| Colour | Black |
| Edge | Cut Edge / Moulded Edge |
| Splicing Method | Hot / Cold / Mechanical |
| Standard Packing | Wrapping in HDPE sheets with Strapping. (Wooden Pallet / Metal Frame is available) |
| Belt Identification Number | A unique BIN (Belt Identification Number) at every 10 Meters(33′) |