Conveyor Belts

Pipe (Tubular)
Conveyor Belts

Pipe (Tubular)
Pipe (Tubular) Conveyor Belts
    Pipe Conveyor Belts also known as tubular conveyor belts, forms the shape of a circular pipe. When working, the belts gradually reform from a plane to a U shape and finally rolls into a tubular shape to carry out closed conveying. The carcass generates proper lateral stiffness to form the shape of the pipe with fatigue resistance. Conveyed along horizontal as well as vertical curves, also allow handling of inclinations of up to 35 degree.
    Application is specially suitable for strict requirements for environmental protection from spillage possibilities and confined space use.
    The benefit is no material scatter, not affected by natural conditions and environmentally friendly, bendable to save space, large inclination, enclosed transportation.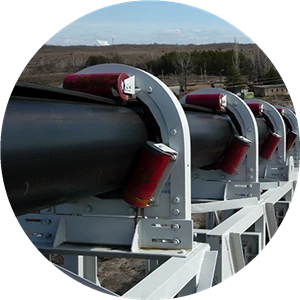 Feature Characteristics of Pipe (Tubular) conveyor belt:
Pipe conveyor belts designed to protect inside material carried by tubular is protected from external influences including solar, wind, rain, dust, and abnormal temperature fluctuations, etc., environmental protection since no material spillages and hazardous, air & water contaminate, super tiny-size dusty or strong-smelling materials (chemicals, garbage, ash, etc.) cannot leak during of transport by pipe conveyor belts.
Closed pipes belt transportation to prevent materials, from overflowing, dropping down, scattering and.
Idler supporting can be further spaced apart as it is self-supporting and structural cost is greatly reduced by eliminating the canopy on top of the conveyor structure.
Pipe conveyor belt incline up to 35 degrees Steep angled conveying, hence optimal adaptation to local terrain and the curve of space.
Versatile to convey of different materials in vertical, horizontal directions and 3-dimensional curves, even when there is a sharp turning radius.
Noise levels are reduced; High conveying speed; low-stretch strength member enables short take-ups; Belt design offers a long service life and extreme reliability.
Applications of Pipe (Tubular) Conveyor Belt:
Bulk port terminals loading and unloading materials in environmentally sensitive areas.
Transporting coal or iron, copper ore at mine sites
Wood chips, Glass crap
Conveying powdered fertilizer, cement or limestone rock industry.
Transporting coal or disposing of flying ash, wet ash in coal-fired power plants.
Structure of Pipe (Tubular) conveyor belt :
Pipe conveyor belts develop perfected open type and zinc-coated steel cord reinforced and synthetic textile fabric, made of Nylon (NN) or Polyester (EP) to meet the applications.
Various combinations of pipes conveyor belts to fit the different kinds of terrain.
The pipes conveying belts meet all types of cover grades;
Manufacture the covers according to IS, DIN, AS, SANS, ISO standards, etc.
LRR (Low Rolling Resistance0 covers advise to be used in general purpose and fire-resistant belts.
Recommends the standard hot vulcanizing technique to splice pipe conveyor belts.
Technical of Pipe (Tubular) conveyor belt:
| | |
| --- | --- |
| Pipes Diameter | Φ200mm (7.87″) to Φ800mm (31.5″) |
| Type of Fabric | EP / NN / EE / ST |
| Tension Strength | ST: 630 to 5400 N/mm; EP/NN: 160 to 3150 N/mm; |
| No. of Plies | EP / NN: 2 to 6 Plies |
| Rubber Cover Thickness | 4.0mm (0.157″)  to 8mm (0.315″); |
| Colour | Black |
| Standard Packing | Wrapping in HDPE sheets with Strapping. (Wooden Pallet / Metal Frame is available) |
| Belt Identification Number | A unique BIN (Belt Identification Number) At Every 10 Meters(33′) |
Feel free to contact us for more details