Conveyor Belts

Multiply Textile
Conveyor Belts

Multi-Textile
Multiply Textile Fabric Conveyor Belts
    High-performance Multiply Textile Fabric Conveyor Belts, which are a priority tailor-made transport conveyor, with excellent mechanical features such as low elongation, impact and tension resistance that almost suitable for all applications, that special used in medium load of bulk capacity material transport conveying.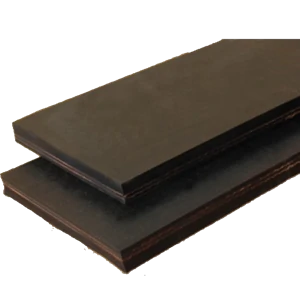 Feature Characteristics of Multiply Textile conveyor belts:
Excellent impact even-distribution across the best
Good anti-tear and cutting & abrasion resistant finishing
Superior elongation and tensile strength properties
Upgrade fastener-holding ability, best suitable for hot/cold vulcanized splicing
Longer service life under heavy duty load
High Strength and excellent resistance to abrasion, cutting and impact.
Longer lifespan as compared to cotton.
High Elongation than EP carcass.
Low Elongation compares to NN & Cotton Fabric.
Good abrasion and tear resistance.
High strength and less maintain service.
EE fabric with polyester yarns in both warp and weft, with excellent HMLS (High modulus low stretch) property.
Low elongation and has a high tensile strength
Excellent resist of moisture and ideal transverse stiffness.
Applications of Multiply Textile Conveyor Belts:
Structure of Multiply Fabric Textile conveyor belt :
    Top Rubber Cover and bottom rubber covers are designed to protect of the carcass inside of the conveyor belts;
Top rubber cover uses special characteristics with excellent abrasion resistance and tear resistance, greatly improve their lifespan;
The top rubber cover has developed of variety of chemical/physical grade for different application such as General-purpose use, Oil & grease resistance, heat and high temperature resistance, fire and flame resistance, chemical resistance, impact resistance etc.,
Customized-made conveyor belt require cleats, sidewall or fabric conveyor belts with grooved surfaces.
Bottom Rubber Cover has good abrasion resistance because they are constant contact with the drive pulley, design with energy-saving technology.
Bottom Rubber Cover composes specially vulcanized formulate with Low Rolling Resistant and anti-punctual property.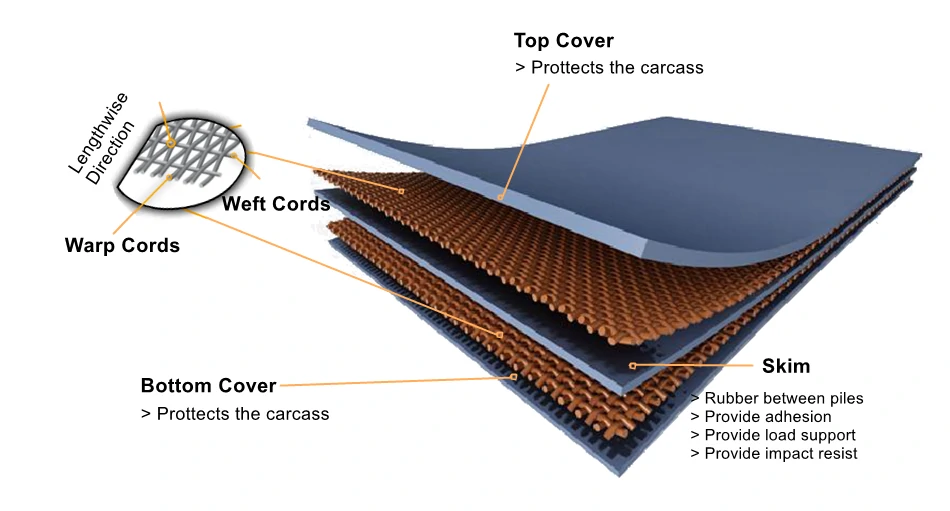 The carcass of the conveyor belt is the core which define the conveyor belt's main performance characteristics. The combined reinforcement, textile fabric or steel-cord, and rubber skim layer found inside of a conveyor belt which gives the belt mechanical characteristics such as tensile strength and elongation, is normally referred to as the "Carcass".
Skim Rubber is upgrade chemical composite with high-standard adhesion properties to provide excellent bonding strength which has the impact absorb and tension necessary of the conveyor belt.
Meet with specific applications, special formulated skim compounds are developed with specific properties like resistance to abrasion, fire, oil & chemical etc., while maintaining the excellent bonding properties.
Textile fabric conveyor belts are reinforced by synthetic EP or PP fabric.
These high-quality textile fabrics possess a good tensile strength/weight ratio, excellent flexibility and trough-ability, low traversal elongation, high abrasion/impact resistance, load bearing capacity and good chemical resistance.
Manufacture with DIN, IS, BS, AS, SANS, JIS standards
Technical of Multiply Fabric Textile conveyor belts:
| | |
| --- | --- |
| Standard Width | 300mm (11.8″) to 2500mm (98.4″) |
| Type of Fabric | EP / NN / EE / CC |
| Tension Strength | 160 to 3000 N/mm |
| Standard Length | Up to 300m (984′) |
| No. of Plies | 1 to 10 Plies |
| Rubber Cover Thickness | Top: 2.0mm (0.079″)  to 12mm (0.47″); Bottom: 0mm  to 4.5mm (0.18″); |
| Colour | Black |
| Edge | Cut Edge / Moulded Edge |
| Splicing Method | Hot / Cold / Mechanical |
| Standard Packing | Wrapping in HDPE sheets with Strapping. (Wooden Pallet / Metal Frame is available) |
| Belt Identification Number | A unique BIN (Belt Identification Number) At Every 10 Meters(33′) |